Dental Care for All Ages
Pediatric Dentistry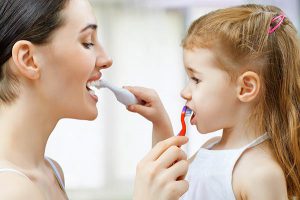 Baby teeth usually begin to erupt at the age of six months. Some of them will remain in the child's mouth until the age of 12. Because of this it is crucial to take good care of baby teeth as early as possible. Our dentists emphasize the importance of dental prevention in pediatric patients from a young age. Early treatment is critical for preventing future bite problems and improving a child's appearance with proper jaw alignment. In general, parents should be aware of the following concerns related to their children's oral health:
Bad breath
Difficulty chewing, open-mouth breathing, tongue thrusting
Crowded teeth
Thumb or finger sucking after the age of 4
If some of these signs are present, it is advisable to schedule an oral evaluation with our dentists.
Teen & Adult Dentistry
As patients enter adolescence and adulthood, they often become more interested in cosmetic dentistry and consider orthodontic therapy to straighten their teeth. Our mission is to help these patients achieve good oral health that contributes to their overall body health. From routine cleanings and exams to restorative and cosmetic solutions, we strive to help our teen and adult patients improve and maintain good dental health while achieving the beautiful smile they desire.
Geriatric Dentistry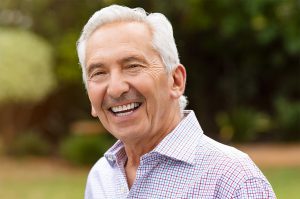 Older men and women require special attention for a variety of age-related dental issues that can arise. Teeth can become more prone to damage, and gum tissue can be more susceptible to disease. As a result, many of our older patients struggle with loose or missing teeth that are affecting their ability to chew and talk like normal. By customizing treatments like dental implants, dentures, and bridges, our dentists are able to restore our older patients' dental function and enhance their overall smile appearance.
Advanced Periodontal Care
With advanced periodontal treatment options—such as tissue grafting, crown lengthening, and osseous surgery—our dentists can address oral health problems like gum disease, as well as improve smile aesthetics. Our dentists utilize laser dental techniques to ensure you receive high-quality gum treatments with less discomfort and improved outcomes.
Crown Lengthening
Crown lengthening is an effective method of treating a "gummy smile," which is characterized by excess gum tissue covering more of the tooth's surface. The solution may also be recommended as part of a larger treatment plan, such as if a restoration is needed and the tooth needs to be prepared beforehand. Often using laser technology, the gumline is recontoured and, in some cases, a small amount of bone tissue may be removed to prepare for a restoration.
TMJ Treatments
The temporomandibular joint (TMJ) is located along the jaw and can be a problem area for many patients. TMJ disorders can lead to chronic head and neck pain, clicking and popping sounds, and reduced function of the jaw. To address these sometimes debilitating symptoms, our dentists offer TMJ treatments to address the root of your condition. Treatment of TMJ problems may include a custom night guard, restorative dentistry, orthodontics like Invisalign®, or oral surgery.
Sleep Apnea
Obstructive sleep apnea occurs when tissues in the back of the throat relax to the point of restricting airflow. This can lead to several pauses in breathing while asleep, which can reduce oxygen intake and impact the individual's immediate and long-term health. Sleep apnea can be a life-threatening condition when left untreated, which is why our dentists work with patients to find the most effective treatment possible, such as creating custom dental orthotics to keep their airway open at night. Dr. Arlene O'Brien is not only an experienced restorative and family dentist in Green Brook, but is also a member of the American Academy of Dental Sleep Medicine. She has made it a a top priority to pursue continuing education and keep abreast of the latest advances in dentistry, and most pointedly, of research and developments in sleep medicine.
Laser Dentistry
Using state-of-the-art laser technology, our dentists can provide certain treatments with less pain and an improved recovery compared to traditional surgical techniques. We utilize laser dentistry to perform procedures like periodontal therapy, bacterial reduction, gum recontouring, and more.
Emergency Dentistry
There are many reasons that patients need an emergency dentist. We have found that a dental emergency can strike at any time. Our team will do their best to accommodate any last-minute appointment requests so you can alleviate your oral pain. If you have a toothache or a major dental emergency, please contact us right away. We offer extended hours, as needed, and will do our best to get you treated in a timely manner.
Painless Dentistry
Our team understands that visiting the dentist can sometimes cause anxiety, due to the discomfort often associated with these visits. This is why our dentists are focused on minimizing pain during every step of dental treatment. In addition to providing gentle care, Cornerstone Dental makes use of advanced laser technology and innovative dental techniques to ensure the most efficient and precise treatments possible.
Root Canal Treatment
Root canal treatment is one of the most sophisticated and challenging procedures in dentistry. When properly executed, root canal treatments can save a tooth from being extracted and extend its life for many years ahead. The procedure helps to eliminate severe pain, swelling, and sensitivity to hot and cold. Inflamed nerve symptoms will quickly confirm the necessity of dental treatment.


Local anesthesia makes the root canal procedure virtually painless. During root canal therapy, the inflamed nerve is cleaned out, and the space is sealed. Teeth that have undergone a root canal treatment will need to be restored. Restorative treatment can range from a simple filling to dental implant with the porcelain crown placed on the tooth later. This is done to protect the tooth from fracture and following extraction.